8 PILLARS to 10X your Team's productivity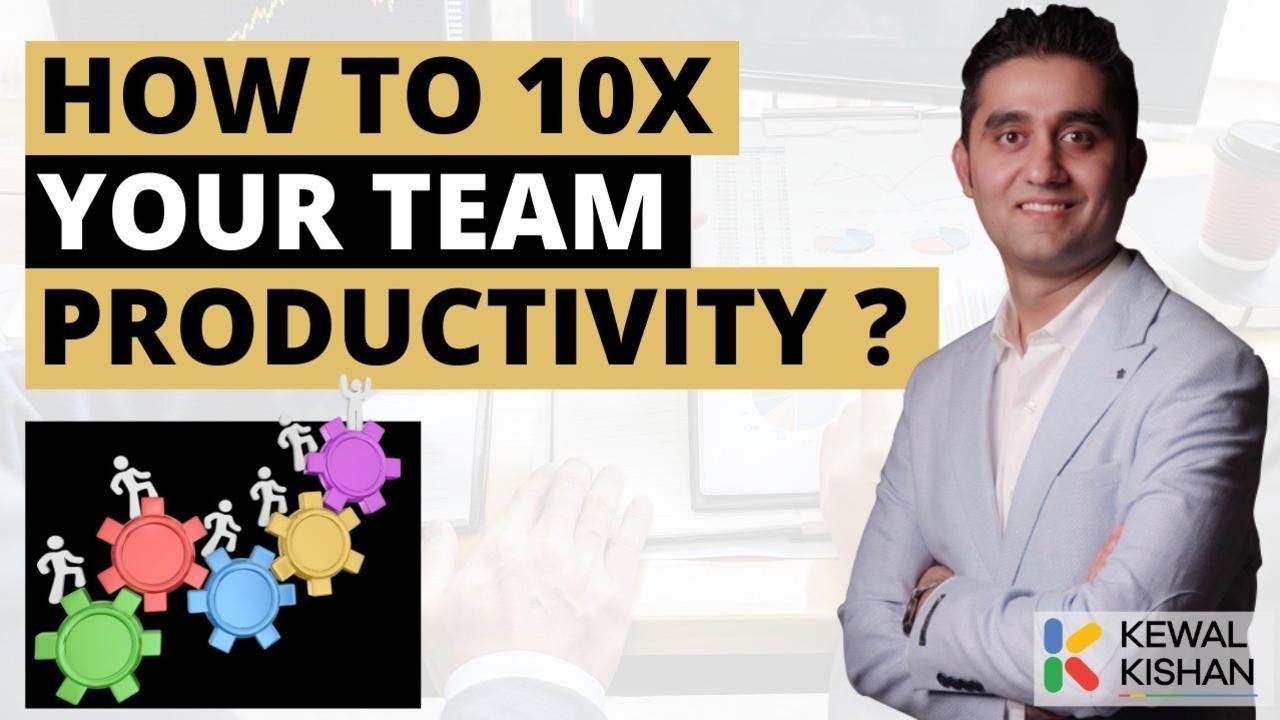 A good team is one of your Biggest Asset and one of the greatest tool which will play a very important role in achieving your Organizational Goals.
There is a very well put meaning of the word TEAM i.e. Together Everyone Achieves More.
We spend our time, money, and a good amount of effort in hiring our Dream Team so that they can achieve their targets successfully and you can focus on Scaling the business. It's important to avoid all the leakages or shortcomings when it comes to delegating tasks to them, managing workflows, proper systems to ensure that perfect output.
Today I will be sharing the 8 Pillars to 10X your Team's productivity.
1. KRAs (Key Responsible Activities) - Are the activities, job roles that you define for each team member. These activities can be at the frequency of daily, weekly, monthly, or fortnightly that are to be carried and completed.
2. Intrasite - Your internal company portal for smooth employee communication across the departments. An intrasite is restricted to only the company people. Below are the things which you can include in your intrasite
The database at a commonplace
Department wise tabs
Company Policies
Team introduction
Current Openings
3. Leave Management - Manage the leaves taken by your employees so that you have all the data ready in one place. This system should help them to apply for the leaves and the reporting manager or you should be able to approve or reject the same.
4. Company Policies - Each organization must have a set of defined company policies that could be related to the working hours, leave management, dress code, data security, etc. These must be communicated to all the team members at the time of joining and must be put on the intrasite where they can have a look at them as and when required. So, all the employees know about them and comply with those rules and policies
5. Process Documentation - There are few set processes in every business which must be shared with all the new joiners beforehand so that they don't repeat the same mistakes as someone has already in the past. These processes must be documented somewhere and shared with the team for reference. It may include -
Lead Generation Process
Sales process
Vendor Onboarding Process
Employee Onboarding process
6. Approval Matrix - Systems are necessary for a lot of processes and one of them is Approval. Now, if you being the business owner don't have systems already you will be the center point of contact for all the approvals and before you realizing it all your time will go into these small issue handling. When you want to scale your business or grow it exponentially you need to have systems placed. Few approval systems which are a must-have are -
Leave Approval
Purchase Approval
Quotation Approval
Travel Request
7. Task Delegation Tool - We know that our employees are capable of doing a lot of good things but sometimes they are unable to use their skills at par. You must have a system wherein you can tap into those abilities and allow your teams to be more productive at work. A system will keep a check on what all tasks are they working on, timely completion, and scoring their performance accordingly. Few of the important parameters to be added in the system are-
Task Priority
Task Target Date
Email Reminder
Weekly Score
8. Employee Training - It's important to keep brushing-up skills of our employees which will be beneficial in company growth as well. You can conduct internal training, or hire a trainer for special training and team bonding activities.
You can check out my video as well for the same on our Youtube channel.
These 8 PIllars are your go-to techniques that can easily be incorporated in your business right away.
I am sure now you have more knowledge about What needs to be done to increase your team's productivity. It will help you to keep doing things in a more organized and productive way to achieve 10X results from your teams.
Join me in a live session to get started with Business Automation in your Business.
Join me for a 2-hour live session -
"How to put your operations on autopilot using Google Apps to manage your business working only 1 hour/day"
Put your Business on Autopilot ✈️